Companies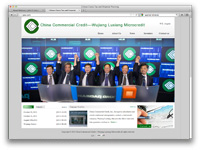 China Commercial Credit, Inc., through its subsidiaries and certain contractual arrangements, controls a microcredit company, Wujiang Luxiang, that provides direct loans and loan guarantee services to small-to-medium sized businesses ("SMEs"), farmers and individuals in the city of Wujiang, Jiangsu.
Read more
.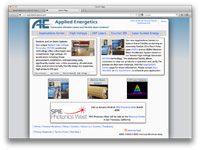 As a pioneer in photonics and high-voltage energetics, Applied Energetics continually advances the state-of-the-art, crafting a wide range of innovative solutions and custom-build deliverables across a broad range of applications, from global chemical conglomerates to every branch of the U.S. Military.
AE has a core capability in custom-built Ultrashort Pulse Laser systems that are capable of high average power and high peak power resulting in increased throughput, improved productivity and reduced total cost. AE also has a core capability in solid state high voltage and charged particle acceleration systems that fulfill unique requirements and continually advance the state-of-the-art with excellent fault tolerance under a variety of conditions, uniquely variable pulse generation capability and a very small size.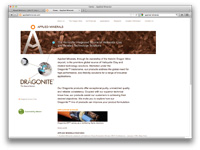 Applied Minerals is a leading global producer of Halloysite Clay. Vertically integrated from Mine to Market, its niche focus and in-depth application knowledge allow it to offer customers commercially consistent product grades, specifically tailored to achieve enhanced performance objectives.
Applied Minerals is the owner of the Dragon Mine, the only known measured resource of Halloysite Clay in the western hemisphere significant enough for large scale commercial production. The Dragon Mine is located in the Tintic District of Utah stretching over 230 acres of land. Applied Minerals retained the world's leading experts in Halloysite to create a standard for the characterization, quantification, and commercialization of this unique mineral. As a result of these efforts, the Company is able to deliver commercially consistent product grades of the highest quality Halloysite in the world.
Applied Minerals also holds a broad portfolio of intellectual property surrounding the technology related to its material. Ownership of this IP portfolio provides the Company with the unique ability to provide customers both the highest quality Halloysite Clay in commercial quantities and the resources to assist them in the rapid commercialization of their products.